ALL-ON-4 in Fort Lauderdale FL
How much do ALL-ON-4 Implants cost?
Why would thousands of people in the US has paid about $24,000 for ALL-ON-4 Implants. Most people dislike removable dentures due to struggles with slipping, shifting, demanding high maintenance requirements and food restrictions.
ALL-ON-4 dental implants procedure is a great solution to these difficulties and excellent alternative to removable dentures. However, six or eight implants are typically required to restore a full arch of teeth which can be an expensive undertaken. ($35,000+).
The ALL-ON-4 procedure for teeth in a day or same day offers patients a more affordable and permanent solution to this problem, as a complete upper or lower arch of teeth can be supported by four optimally placed dental implants – often for less than $25,000.

What Is The ALL-ON-4 Cost Variation Based On?
All-On-4 dental implants procedure cost with permanent teeth about $24,000 and about $28,889 with zirconia teeth.
For many people, the cost of the procedure is the primary factor during the decision-making process, an upper or lower arch of All-on-4 dental implants costs variation is due to a number of different factors, including: What diagnostic tests (x-rays, CT Scan, etc.) are carried out beforehand to assess the patient's health. Brand and type of of teeth used. The quality of the final fixed bar teeth supported restoration and the customization required. How many dentists/professionals and locations are involved. Getting everything done in one place is more cost-effective. The experience and skill of your implant dentist(s) or oral implantologist. The location of your dentist. Typically it is cheaper in areas with lower cost of living.
In some cases, your dental insurance may cover part of the fee charged to remove your teeth, but few ALL-ON-4 providers don't allow you to claim the cost related to surgery in reference to teeth extractions. This is because in spite of the health benefits that can be provided by dental implants, most insurance companies still classify it as a cosmetic procedure.
If you find the ALL-ON-4 system being offered at a substantial discount (well below the average cost range mentioned), it is worth inquiring about the weather the type of dental implants being used are FDA approved as they might not be.
If something goes wrong, it is much easier to obtain the dental implants components necessary to repair and replace an implant if they are FDA approved and made by a well-known manufacturer. In addition, you are more likely to be able to find a dentist who is willing and able to do the ALL-ON-4 repair.
What Can I expect on the day of All-On-4 surgery?
The procedure was originally developed by the Portuguese dentist Dr. Paulo Malo who worked in conjunction with Nobel Biocare, one of the well- known dental implant companies in the world.
Your dentist will evaluate your mouth by performing various diagnostic tests including a CT scan and dental x-rays to measure the amount of available bone in your jaw and its density. They may also use special 3D dental imaging software to make an accurate diagnosis, plan the implant placement and create surgical guides that enable the dentist to insert the implants into exactly the right position.
The technique involves placing two implants at the front of the arch, in the positions normally occupied by your incisors (front teeth) and two implants placed beside them – one on each side.
These are placed at a 45 degree angle tilting away from the front implants. The angle helps to maximize the use of bone in this area as slightly longer implant posts can be used for the angled implants, providing greater support for the replacement teeth. These four implants can support an entire arch of twelve or fourteen teeth.
A new, temporary fixed bridge prosthesis is created prior to the four implants surgery and will be modified to provide a personalized fit immediately after the posts are placed. Since there are only four posts to fit the restoration onto, the entire process is relatively quick and you will leave with your new teeth in position and ready to use.
It is important to note that, most of the time, your new set of teeth are temporary as your dental implants still need time to heal and integrate with your jawbone. Your gums and jawbone should be fully healed after three to six months. At this stage, your dentist will remove your temporary teeth and can take impressions for the permanent implant supported fixed bridge which will be stronger and fit more comfortably.
Is ALL-ON-4 Cost Worth The Potential Risks and Problems
It is a valid concern when a $24,000 payment has been made for a ALL-ON-4 procedure. All types of oral surgery carry some amount of risk, and although the success rate for dental implants is around 95%, different potential problems are possible and a small percentage will fail - which can be
It is vitally important for anyone with dental implants to make sure they are thoroughly cleaned frequently in order to keep them free from plaque and food debris. Regular check-ups and professional cleanings are also essential. With proper planning and care, the risks can be minimized. All-on-4 dental implants is a very specialized procedure so it is important to make sure you chose the right dentist who has great credentials and the proper training and experience.
This procedure is suitable mostly for people with bad and failing teeth, but is worthy of consideration by anyone who has missing teeth.
How much is All-on-4 dental implants?
Cost for All-on-4 dental implants is estimated to range from $24,000 and could go over $28,000. Average cost of All-on-4 implants for full mouth is reported to be about $50,000 according to many providers across the US. This cost includes both the maxillary (upper) and mandibular (lower) jaws with permanent teeth.
This can be expensive and dental insurance may help pay for implant crown.

How much does Full Mouth Dental Implants cost?
Cost for Full mouth denture implants is estimated to range from $50,000 to about $65,000. This cost includes implants, abutment and the implant crowns. This can be expensive and dental insurance may help pay for implant crown.
In Florida you can expect to pay less than that starting at around $ 2,200 for an implant with insurance. Price for multiple teeth depends on how many need replacement and their location.
How much would you pay for Full Arch Removable Denture implants with insurance?
Most insurance companies do cover parts of the treatment such as extraction, or restoration of the upper or lower jaw or arc to restore the normal functions of your teeth may be covered. Check your plan for full mouth dental implants cost with insurance. Those insurance companies that do cover the cost will have an annual reimbursement limit of $1,500 - $2,500 these amount hasn't changed in decades. It may be enough to cover the cost of a single implant, but you will still end up paying for the rest.
There are plans in Delta Dental that van cover up to 50% of them per year. Certain Cigna plans also cover one as well. Check with them for more information.
Most Florida insurance providers accepts all mayor PPOs. However, the are providers who may have much many more years of experience working with insurance companies. Many practices have our their own benefits coordinator that would be happy to assist you. She would check your benefits to see what is covered and file insurance paperwork on your behalf to best ensure that your benefits are maximized and you get the most value.

Full mouth dental implant cost: Same day
Same day full mouth dental implants cost vary from $15,000 to $30,000 and the cost of this treatment includes the cost of implant prosthesis, fabrication on a single day in 2022. This treatment can restore your smile in one day so you aren't without your teeth for an extended period of time.
Are All teeth on 4,5,6,8 Implants a Good Investment?
According to the American Academy of Implant Dentistry, dental implants are price-competitive in the long run compared to dentures and bridges. These are some of the reasons full mouth implants are better than traditional removable denture:
Health - When you have a missing teeth, it will cause jawbone deterioration over time. You are also at risk of choking and having digestive problems when you don't chew food properly. This often happens to people with missing teeth.
Convenience - Fewer doctor visits, means less cost on dental appointments. There are no special tools needed or special maintenance equipment except observing proper oral hygiene.
Quality of life - dentures often affect with eating, drinking, laughing and speaking.
Total price - The cost of traditional dentures may be lower, but the cost doesn't include replacement which happen every 5 to 15 years, relying, and ongoing costs like brushes, cleaning solutions, and adhesives.
Cost of Full mouth of dental Implants Fort Lauderdale, FL
If you are near Fort Lauderdale Schedule an Appointment with us today and start smiling again. We offer monthly payment plans so that our Illinois patients will be able to afford this treatment in a smaller amount per month, without having to pay it all at once. We also accept all major credit cards, including Visa, MasterCard and American Express. We also work with Lending Club and CareCredit.

Are the benefits of All-On-4 cost worth it when compare to dentures
"Facial Collapse" Preservation Dental implants help to preserve the bone in the jaw. In comparison, dentures can accelerate this bone loss due to the pressure of the denture sitting on the gums and the underlying jawbone.
Increased comfort The restoration is supported by implants instead of gum tissue, so it does not rub or create sore patches.
Improved diet Denture wearers need to avoid certain foods that are difficult or nearly impossible to eat because they are too hard or crunchy and could damage the denture. Implants are strong enough to withstand these forces, allowing you to eat a more healthy and varied diet and enjoy increased bite strength.
Improved self-confidence Implant supported teeth do not move around when you eat or speak, so you can socialize without any fear of embarrassment resulting from your teeth moving or slipping out of position.
Improved appearance Tooth and bone loss in the jaw affects facial dimensions and can make you look years older than you actually are. All-on-4 teeth are constructed to replace height lost in between your upper and lower jaws, and will support your cheeks and lips.
No need for messy adhesives Teeth-in-a-day will be permanently fixed over four dental implants.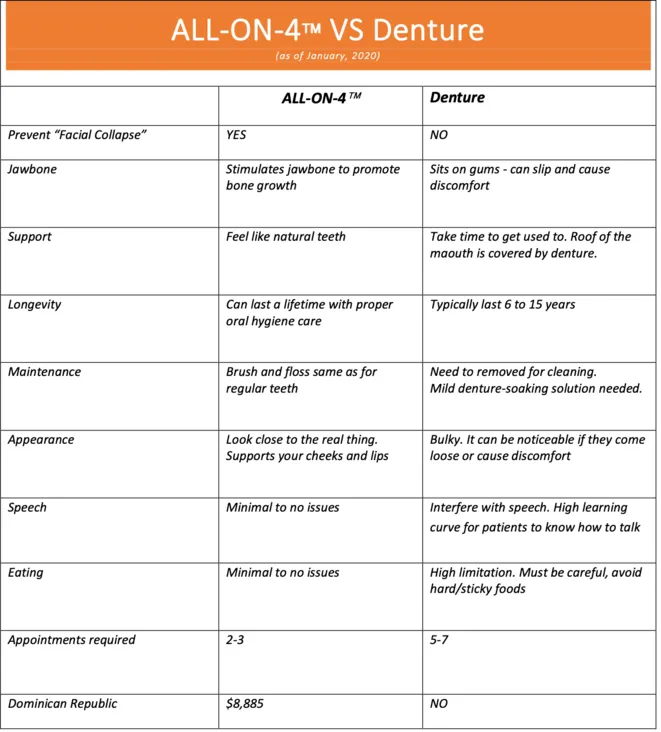 FAQ for Permanent Fixed Dental Implants hybrid Price
Are full mouth dental implants worth it?
Tooth implants produces results that are as close to having healthy natural teeth. There is no other dental restoration method that comes close to preventing bone resorption and bringing back the natural look and feel of your teeth than dental implants. Patients have often seen an improvement in confidence as a result of getting whole mouth dental implants. This alone is enough to justify the cost and time spent for dental implants.
Can I make payments on full mouth permanent denture implants?
Yes, at Handcrafted Smiles you pay for your full mouth dental implants. Additionally, our office works with lenders like CareCredit or LendingClub. We also offer interest-free, in-house financing so that our patients even without insurance can avail of this treatment.
How much does insurance pay for All-on-4 dental implants?
The cost of your treatment for all-on-4 dental implants depend on your insurance policy but in most cases, the coverage is minimal. We advise patients to look at their policies for the specifics as there are plans that can cover for this treatment. Our benefits coordinator will be able to assist you and see what is covered.
How can I get insurance to pay for full mouth dental implants?
See if your insurance provider can pay for the cost of this treatment. If they can't pay for the implants, they may be able to pay for some parts of the procedure such as tooth extraction. If they can pay for the full cost of your treatment, if the tooth is lost due to an accident or injuries. Our benefits coordinator will be able to review your insurance and make sure to maximize your benefits.
How can I get full mouth dental implants without insurance?
If you don't have insurance, you can take advantage of third-party lenders like CareCredit and LendingTree. Our office also offers interest-free, in-house procedures for full mouth dental implants.
Dental Implant cost Fort Lauderdale

For More Info All-On-4 Dental Implants cost Click Here