Dr. Max Arocha, DMD
Dr. Max Arocha is one of the most trusted oral implantologist in Florida and has been offering dental implants solutions to the Fort Lauderdale-area community for many years. Dr. Arocha is a certified, licensed and active doctor who specialize in ALL-ON-4® dental implants for teeth-in a-day under IV sedation dentistry.
Dr. Max Arocha has spoken and made television appearances for National Medical Report about dental implants. He is a HealthTap Founding Doctor and his answers and insights have helped well over one hundred thousand people.
He has pioneered several minimally invasive ALL-ON-4® dental implant techniques using advanced hard tissue lasers with computerized 3D surgical guide protocols. He gives his patients new smiles, faster and less costly than ever imagined.
He has taught at the World Clinical Laser Institute about advanced laser techniques on teeth bone loss.

Dr. Max Arocha holds hospital privileges at Memorial Regional Hospital in Florida. He is a prolific innovator and awarded numerous U.S. and international patents in the field of medicine in anesthesia and the field of periodontal micro and nano-encapsulation antibiotics.
Education
Dental School Training- Temple University School of Dentistry, Pennsylvania
Residency Training- Lehigh Valley Hospital, Pennsylvania
Intravenous (IV) Sedation Training: Albert Einstein College of Medicine
Hospital Medical Staff - Memorial Regional Hospital, FL
Biochemistry Training - Florida Atlantic University, Boca Raton, FL.
All-On-4 Dental Implants Doctors Fort Lauderdale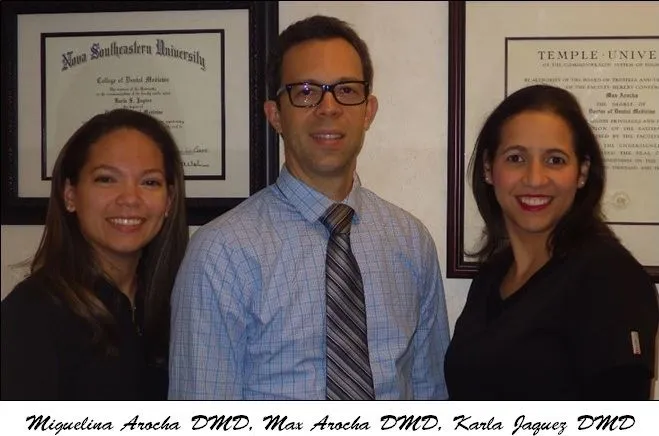 Our practice is a family business composed by one brother, two sisters and wife dentists focus on dental implants. Whether it's replacing a single tooth, multiple teeth or full upper and lower arches, the doctors offer patients a world class level of implant expertise, sedation dentistry and care.
All-On-4 Dental Implants Fort Lauderdale is on the top list of quality dental implants expert's in Fort Lauderdale. We start by offering an easy solution to book an appointment
We have helped thousands of patients put an end to their bad teeth and failure dental work by bringing 21st century dental implant solutions, technology and expertise together in one place.